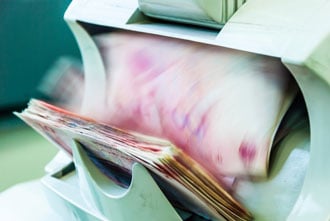 Cash management involves a lot of behind-the-scenes work. It isn't simply accepting cash transactions at the cash register. Rather, there are a lot of "moving parts" to account for when handling cash. There is also a lot at stake. Retail businesses rely on cash to operate effectively; if proper cash management isn't a priority, your business can really suffer.
Carefully and efficiently processing cash is a sure way to keep your business afloat and ensure that you are getting the most out of handling cash. Here are seven cash management mistakes that have the potential to hurt your business; avoid them at all costs!
1. Sloppy Cash Handling
Sloppy cash handling is a common practice in many retail establishments. When business is booming, taking proper care and following procedures can quickly fly out the window. However, sloppy cash handling can have big consequences for your business but it can also be easily avoided. Proper training for staff, and ensuring that accuracy is a point of focus, will help you avoid the pitfalls of sloppy cash handling.
2. Sharing Cash Registers
Sometimes it can be easier for staff to hop on and off of registers throughout their shifts, particularly if there are a lot of customers. When staff share registers, though, any sense of accountability is lost, leaving your business vulnerable to cash handling errors.
3. Manual Counterfeit Detection
Improvements in the technology used by counterfeiters have made it more difficult to identify counterfeit currency by touch and sight. Counterfeit currency may have some of the same security features as real currency, making it very hard to identify. Only with counterfeit detection technology can you accurately identify and reject counterfeit currency. It is worthwhile to invest in detection technology to protect your business from fraud!
4. Counting Cash by Hand
Counting cash by hand is by no means the most efficient way of processing cash. You can never be sure that you won't encounter an error that can majorly increase how long it takes to count and process cash. Making use of a currency counter is an excellent way to make sure that your counting process runs smoothly each and every time.
5. Having Too Much Cash in Store
Keeping too much cash on hand can be a danger to your staff, customers, and business. Cash that is unorganized or visible to the public can increase the potential for theft. When you keep only what you need in cash registers and the rest safely stored in a smart safe or secured cash room, you will reduce your risk of theft and be able to more easily manage the amount of cash that you have in store.
6. Outdated Policies and Procedures
Policies and procedures tell your staff how to correctly handle and manage cash within your business. When policies and procedures are unclear or out of date, your staff have no point of reference for how to correctly handle cash. When new staff members are joining your team, make sure that your policies and procedures have been updated and that they are easy to follow so that your workers can confidently and accurately handle cash. Policies and procedures protect your staff and your business from cash management mistakes.
7. Inefficient Cash Management System
If you have recognized some of your own business practices in the six previous mistakes, it is likely that your cash management system is in need of an overhaul. An inefficient cash management system will end up costing your business a lot more money in the long run. Evaluating your needs and making an investment in automated cash management technology gives your business the chance to thrive off of accepting and processing cash payments.
Source: Robin Steinberg