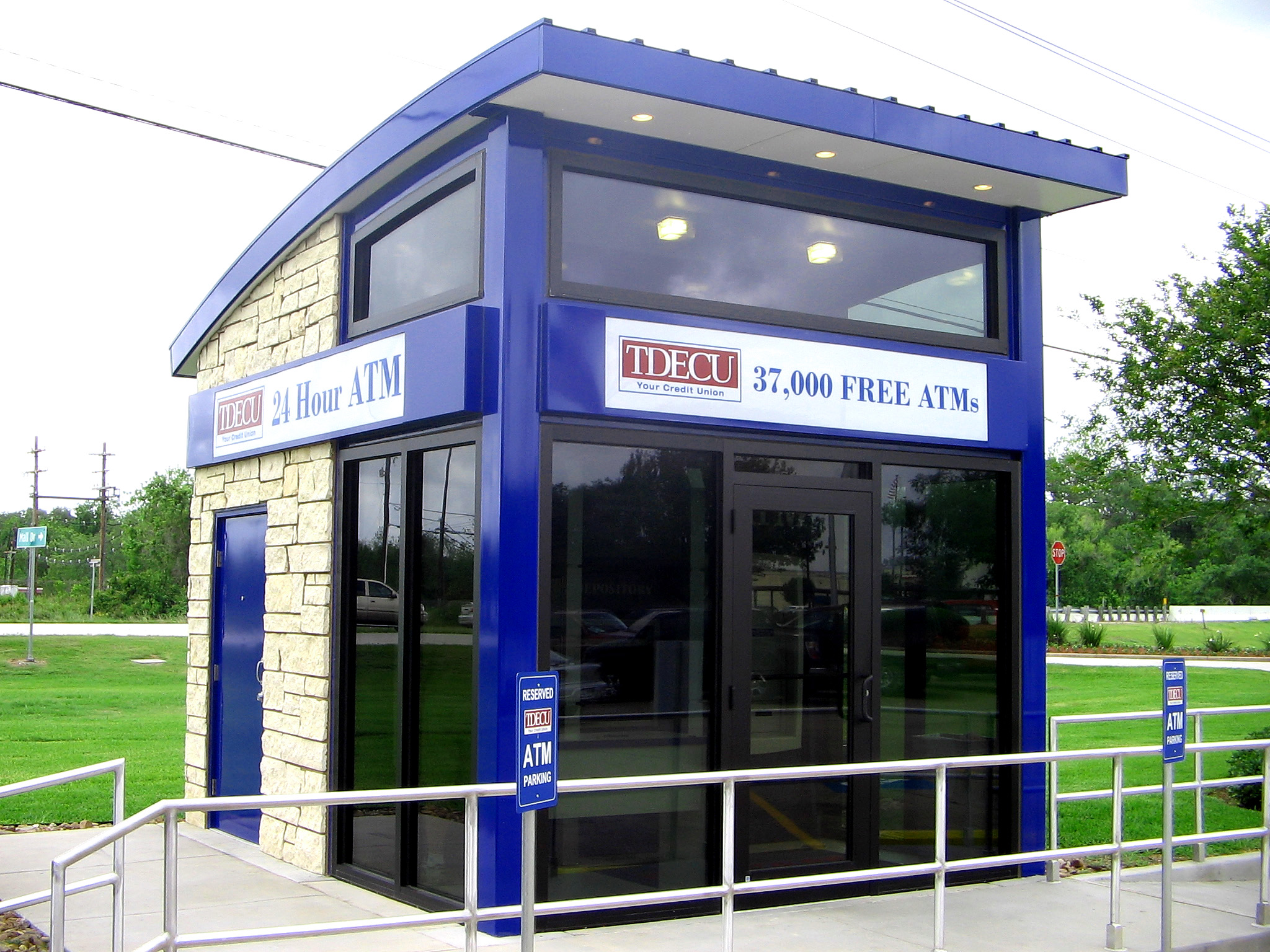 Electronic Mini-Branches containing multiple ATMs and other self-service equipment provide a low-cost way for FIs to grow and expand service without the expense of building and staffing large branches.
"The concept of unattended Electronic Mini-Branches with video links to remote customer service and sales staff has been around for over 20 years," said international retail banking consultant David Cavell (http://www.atmmarketplace.com/articles/for-the-self-servicebranch-the-future-is-now/). "But ATMs, self-service technology and video communications are much more advanced now, and have given a new lease of life to the concept."
Recent high-profile deployments of Electronic Mini-Branches include a prefabricated 8-foot by 20-foot portable "pop-up" minibranch that PNC Bank piloted in Atlanta in 2013 (http:// www.atmmarketplace.com/articles/pnc-branches-out-in-a-small-way/).
The branch featured a "smart" ATM with the facility to dispense cash (including $1 notes) and cash checks, or to accept checks and cash for deposit into customers' accounts.
Diebold has developed the "responsive banking concept," a prefabricated unattended microbranch. This application features advanced ATMs and a consultation room where customers can engage in videoconferences with remote sales specialists.
According to a Diebold news release, the concept allows FIs to be where consumers live, work and play, while also providing personalized interaction without having to staff a branch.
"Electronic Mini-Branches containing full-service ATMs provide a low-cost way for FIs to promote their brand and presence in geographies where they are under-represented," Cavell said. "For example, they can be installed in locations such as college campuses, hospitals and shopping malls to provide convenient service to an FI's customers and to generate interchange and surcharge revenue from noncustomers."
Electronic Mini-Branches offer an effective way for an FI to sell accounts and loans to customers — for example, through video links to remote staff, Cavell said. In addition, Electronic Mini-Branches equipped with cash recycling ATMs and automated depository machines can be used to provide banking services to small business customers.
Self-service trend
The deployment of Electronic Mini-Branches is part of a broader movement by FIs to build teller-free branches equipped with self-service technology and staffed by "universal bankers" who assist customers with self-service transactions and product advice.
Wells Fargo, for example, opened its first 1,000-square-foot neighborhood branch in April 2013 in Washington, D.C. The facility features large-screen ATMs and is staffed by universal bankers equipped with tablets. A traditional Wells Fargo branch occupies 3,000–4,000 square feet.
"Electronic Mini-Branches equipped with the latest self-service technology such as biometrics and mobile device-ATM integration provide a great way for FIs to target millennials," Cavell said. "In 2013, Javelin Research published findings that showed the significant use of branches by this market segment in the U.S."
A November 2014 survey by Mercator Advisory Group found that more U.S. consumers would be inclined to use self-service (36 percent) rather than teller-only (30 percent), if their primary banks were to install more ATMs and self-service kiosks for envelope-free deposits, (http://www.atmmarketplace.com/news/study-as-self-service-banking-risesteller-displacement-begins/).
Compared with a similar survey conducted by Mercator in 2012, more consumers now say they might use ATMs instead of tellers (36 percent vs. 24 percent), while fewer consumers say they would still likely use tellers (30 percent vs. 41 percent).
"Our survey finds that teller displacement is clearly underway in the U.S.," said Karen Augustine, manager of primary data services at Mercator.
The Mercator survey found that, among young adults and mobile device users, remote deposit capture is now the preferred method for depositing checks valued at $50 or less. For higher-value checks, tellers remain the preferred method, but this preference is declining, Mercator found.
"As self-service banking technology advances, becoming easier to use and offering greater functionality, consumers begin to prefer the convenience of self-service channels to conduct basic banking transactions rather than going to the branch to have a teller perform them."
— "Self-Service, ATM, and Other Channel Banking: Teller Displacement Begins," a study by Mercator Advisory Group.
Source: Robin Arnfield, ATM Marketplace